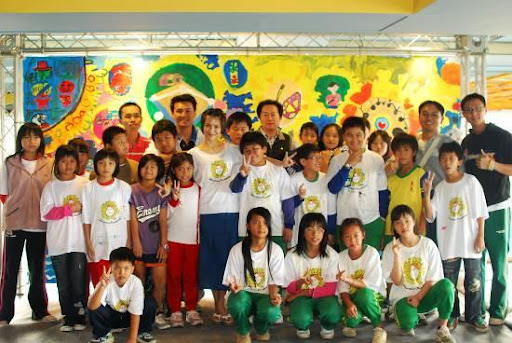 I went on a trip which took me five hours of train ride and another 2 hours of car ride but all was worth it when I reached KenTing, a beautiful land by the seaside of South Taiwan. I was filled with an air of excitement and felt as though the vast ocean and blue sky opened their arms to welcome us.
The purpose to KenTing was to join a music festival, known as the "Spring Scream Music Festival" which is held every once a year lasting for 2 days. This year, the event falls on 3rd April 2010 but I arrived a week earlier before the event started to help out as Hope Education Foundation plays a part for charity purposes in Spring Scream Music Festival.
I had to draw on a canvas which was 7 feet in height and 13 feet in width coming up with my own theme and at the same time, guide a group of primary school children to draw on another canvas which is of the same size.
I named my artwork "Dancing Waves" as the idea came from KenTing's ocean where the white waves curl and laps against the clear blue sea. It also looks as if the waves heard the music from the festival and started dancing. The pencil in my hand came alive too, followed the waves' shadow and started to draw them on the big beige cloth!
The other piece of canvas was drawn together with the small children and it is known as "Dreams". The children drew their own version of the Little Yellow Flower and their dreams in the face of the flower. I hope that with this theme, the little children will always remember that the bravery and spirit of the Little Yellow Flower will always accompany them in pursuing their dreams.
When both the drawings were completed, it was hung at the event's venue by the seaside allowing the drawings to dance together with the crowd and wind according to the music's tempo. The drawings were also printed onto T-shirts. These T-shirts are sold together with the previous T-shirt I designed for the organizers, caps and also HOPE Education Foundation's T-shirts. They were all sold for charity purposes and all proceeds are in aid to HOPE Education Foundation.
I would like to take this opportunity to thank the organizer, Spring Scream Music Festival for such an interesting and unforgettable trip cum event!