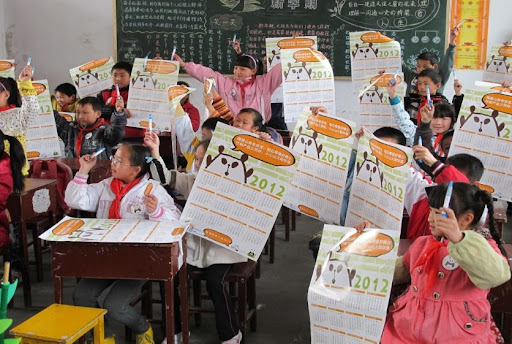 Little Yellow Flower (Hong Kong) has sponsored the "Conservation Education Sponsorship Program" of Ocean Park. Volunteer students from Hong Kong Baptist University (BU) and The Hong Kong Institute of Education (HKIEd) who participated in this education program went to primary and secondary schools in Foping and conducted a series of face to face education activities for the students. The objectives of the program are to sow the seed of conservation awareness among the participant students, as well as a practical training for BU & HKIEd students. Foping province is known as "The Homeland of Panda". Through these activities, students realized the importance of providing a green environment for the pandas, as well as for the future.
The theme of these education activities focused on the Giant Panda Nature Reserve. Activities conducted including dynamic survey, seminar, play, hymns singing, dancing performance and also the making of "Wishing Tree". Discussion on the environment conservation issues and urban development was carried out among the students. Earlier on before the event, students from BU and HKIEd have put lots of efforts and creatively came out with some brilliant ideas for the promotion campaign, as well as finding sponsors for gifts and souvenirs.
The series of activities was started since early of the year and the official visit was in April. In total, 10 students from each BU and HKIEd and over 1,100 students in Foping, respectively from 4 primary schools and 2 secondary schools have participated in this program. The response was overwhelming. In the future, more information about conservation can be conveyed to more university students, topics can be extended from the giant panda and more about other issues.